Susan Lewis

Key information
Gender
Female
Hair Color
Blonde
Occupation
Emergency Medicine Physician
Specialty
Emergency Medicine
Family
Henry Lewis (father)
Cookie Lewis (mother)
Chloe Lewis (sister)
Susie Lewis (niece)
Spouse
Chuck Martin (ex-husband)
Children
Cosmo Martin (son, with Chuck)
Behind the scenes
Portrayer:
Sherry Stringfield
Episode
142
First episode
"24 Hours"
Last episode
"And in the End..."
Dr. Susan Lewis
, portrayed by Sherry Stringfield, is a fictional medical doctor on the television series ER. One of the original cast members, Susan was the first to depart the series.
Character Biography
Edit
First stint
Edit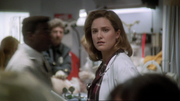 Dr. Susan Lewis is first introduced in the series as a second year ER resident. While maintaining close relationships with her co-workers, Dr. Lewis proves to be very competent. Yet, she at first lacks the assertiveness needed in the fast paced environment of the ER.
Throughout the first season, she maintains a romantic relationship with Dr. Div Cvetic, a psychiatrist at County General. However, Cvetic slowly spirals into a nervous breakdown and disappears. Susan eventually finds out he later married.
Susan's life becomes even more hectic during the second season, when her flighty sister Chloe appears, looking for a place to stay. Eventually, Chloe becomes pregnant. With the father being absent, Susan is forced to help her sister out throughout the pregnancy. A few months after the pregnancy, Chloe abandons little baby Susie, forcing Susan to make the difficult decision of keeping baby Susie or putting her up for adoption.
After deciding to keep baby Susie, Susan is constantly forced to balance the struggle of both raising a baby and completing her time consuming residency. Just as Susan has gotten the flow of her new life, Chloe returns sober and with a new boyfriend. When Susan eventually has to give up baby Susie to her sister, she is heartbroken.
As the third season opens, Susan is still adjusting to her "normal" life without having to raise baby Susie. Upon taking a trip to Phoenix to visit Chloe and the baby, Susan makes a big decision. It is at this point that she begins to develop a budding relationship with her good friend, Mark Greene. With Mark newly divorced and Susan now alone, the two pick up a casual, yet awkward relationship. As Mark tries to ask Susan out, she must break the news to Mark: she is leaving Chicago and moving to Phoenix. Mark is heartbroken, but Susan is sure of her decision. As she is boarding her train to leave Chicago, Mark chases her down at the train station and tells her that he loves her, asking her to stay. However, she still decides to go, and kisses him as she boards. As the train pulls away, Susan tells Mark that she loves him too.
Second stint
Edit
Susan returns during Season 8 as she left, shown to arrive on a train into Chicago to interview for a job. Susan visits County General for the first time in 5 years and sees the hospital has changed as well as the faces. She meets Mark for coffee and reveals that Chloe has moved on to another city, and she has decided that she can't follow her sister's family around forever. Mark offers her a job as an attending physician at County General, despite Kerry Weaver's reservations – the two never got along when they worked together before.
During Season 8 Susan has a brief relationship with Dr. John Carter after they both admit that they had a crush on each other when he was a medical student and she was a resident – it doesn't last, as Susan realizes in the episode Secrets and Lies, that Carter is really in love with Abby Lockhart. She then tells Carter to "tell her" about his feelings. The two both break up on good terms and remain good friends throughout the rest of her career at County. Her problems with Chloe resurface when her niece Susie goes missing in New York after leaving a distressing voicemail message on her aunt's phone. Susan flies to New York (in a crossover with Third Watch) and discovers Chloe doped up, sleeping rough. Towards the end of the season, Susan faces one of her most difficult story lines, as her best friend Mark Greene reveals to her that his brain tumor has returned. The two rekindled their close friendship as she helps him come to terms with his diagnosis. Susan is alluded to in Mark's goodbye letter in The Letter when Mark comments that he had to leave the way he did, even though there were things of a more personal nature to say. After her best friend's death, Susan warmed up to other friendships in the ER with Abby Lockhart and Elizabeth Corday, and was able to work better with her old colleague Kerry Weaver. Dr. Romano also promoted her to Deputy Chief of Emergency Medicine much to Kerry Weaver's dismay.
Into Season 11, Susan begins to build some anxiety about the upcoming tenure offer. It ultimately goes to her friend John Carter, due to her lack of grant funding, finally leading to her final exit from the series at the beginning of Season 12 in the episode Canon City. Susan is offered a tenure track position at a hospital in Iowa City, Iowa (presumably University of Iowa). Technically, Stringfield was the first and last original cast member to leave the show. (Being the first to leave in 1996, then in 2005 after the rest of the original cast left.)
Season 15 Return in The End
Edit
In the season 15 episode The Book of Abby, long-serving nurse Haleh Adams shows the departing Abby Lockhart a closet wall where all the past doctors and employees have put their locker name tags. Amongst them, the tag "Lewis" can be seen.
Dr. Susan Lewis returned for the series finale titled "And in the End...", returning to Chicago for the opening of The Carter Center. During evening drinks with Peter Benton, John Carter, Kerry Weaver, Elizabeth Corday, and Rachel Greene, Susan is heard confirming to Dr. Corday that she still lives in Iowa. Additionally, she states that she and Chuck have split and she is now dating again. She eventually returns to the ER for the last time in the series with Rachel Greene and Carter, where she visits and jokes with the staff, much to the annoyance of Dr. Banfield who interrupts the talk by asking Susan who she is.
The 
ER Wiki
 has a collection of images and media related to 
Susan Lewis
.
Ad blocker interference detected!
Wikia is a free-to-use site that makes money from advertising. We have a modified experience for viewers using ad blockers

Wikia is not accessible if you've made further modifications. Remove the custom ad blocker rule(s) and the page will load as expected.